The James Roy Holliday III
guide to acupressure

Introduction

Acupressure and acupuncture have been used in the Far East for thousands of years to treat disease, but this poorly understood science has only gained wider acceptance in the West in recent times. Chinese medicine emphasizes personal responsibility for one's health, unlike much of Western medicine. This page is designed to put the relief of common and usually minor discomforts and symptoms into your own hands.

Acupressure does not replace standard emergency procedures nor licensed medical treatment (including that of a licensed acupuncturist). Any persistent problem, serious injury or symptom requires the attention of a licensed doctor. But these pressure points will relieve those symptoms and pains for which you would normally buy non-prescription drugs. They can also be used to supplement standard first-aid treatment.


Warning

Accupressure should not be used:
As your only treatment for illness; if you are sick, see a doctor.
If you have a heart condition.
Just before or within 20 minutes after heavy exercise, a large meal, or bathing.
If the point in question is under a mole, wart, varicose vein, abrasion, bruise, cut, or any other break in the skin.
If you are pregnant, especially if more than 3 months.

How Does It Work?

The concepts of internal and external environment are very important to the philosophy of oriental medicine. The human body, it is believed, encloses an ongoing flow of bioenergy or life-force called "chi."

This energy flows along specific pathways called "meridians," and controls the functioning of all of the organs. In a healthy individual, this flow maintains a constant balance with itself and the external environment. When external or internal events occur which disturb this balance, disease ensues.

Along the meridians are a large number of controlling nerve endings, or "acupoints" which act as valves for the flow of chi. The stimulation of these points, properly performed, acts to restore balance to the internal environment.


Using Acupressure


To stimulate an acupoint properly, you must apply deep probing pressure. Therefore, only apply pressure with: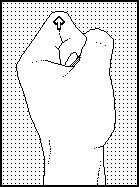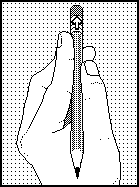 Before beginning, classify your problem. For example, if you had a backache brought on by stress you might be better off treating for the stress, rather than the backache.

The figures and text give the approximate location of a point. You must explore the area with a deep probing pressure, until the exact point announces itself to you with a sharp twinge. This sensation normally starts as a jolt, and after a few moments becomes a numbing sensation. Sometimes it causes a tingling along the limbs near the point. At first it can be quite a shock, but as you become accustomed to acupressure, your sensitivity should decrease.

When you have found the point, apply pressure for 15 to 30 seconds and repeat this procedure on both sides of the body. You should feel and immediate reduction of the symptom. This is often accompanied by a release of tension you may not have noticed, or by perspiration, or the release of gas.

If your symptom has not been relieved by stimulating the correct point in the proper manner, try the next point or points listed for that symptom.

When your symptom has been relieved, use no other points. This relief may be temporary, in which case re-stimulate the successful point. A pain may go away and return three or four times, lesser each time, before disappearing completely.

REMEMBER: IF YOU HAVE A SEVERE OR PERSISTENT PROBLEM, SEE YOUR DOCTOR AS SOON AS POSSIBLE.

You are trying to harmonize your inner environment, so isolate yourself from the external environment as much as possible. Find a quiet place, sit down, and try to relax. Avoid loud music, exercise, food, and any drugs including alcohol while stimulating your acupoints.

Once you are familiar with using acupressure on yourself you can try it on others, but be cautious. Most states have laws against the practice of remedial massage, or medicine of any kind, without a license. I suggest that you only attempt to use it on your family and friends.

When you do use it on others, be cautious of the warnings listed. Also, be sure to explain what you are doing and what they can expect. Remember that thumb widths and hand widths shown on the diagrams refer to the width of the thumb or hand of the person being treated. Ask for feed-back from them to be sure you've located the right spot, as exact locations of points vary from person to person.


Finding The Acupoints

Clicking on the statue will take you to a series of areas in the body. Find the area giving you trouble and note the following numbers. These are the points which should be stimulated it the order listed. All in all, it's pretty self-explanitory.

acupoints.html

Warning: Lots of Gifs
not for those with slow connections