One head, two faces, but still just nine lives.
Meet Image: A kitten with a mirrorlike countenance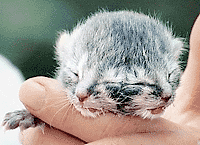 A kitten with two faces was born in Bensalem this week. Veterinarians say the rare animal, named Image, has a good chance of surviving because the cat?s two mouths, two noses and four eyes work in unison. (La Shinda Clark/Inquirer Staff)
By Oshrat Carmiel
INQUIRER SUBURBAN STAFF
Two kittens were born on Wednesday to a Bensalem cat, but there were three faces in the litter. One of the tiny creatures arrived with one head, two ears - but four eyes, two noses and two mouths.

The rare, double-faced feline has reasonably good chances for survival, area veterinarians say.

The gray striped kitten, given the name Image, has one brain to control all his facial responses - both mouths open at the same time, both noses sneeze together, and all four eyes, when they open in a few days, will blink in unison.

A true copycat.

"I got goosebumps," said Sandra Pyatt, owner of the mother cat, Butt-Butt, and her offspring.

Pyatt said she did not notice the two-faced kitten when he was born but her 12-year-old son, Timothy, discovered it the next day.

"Mom, Mom, the cat has two faces!" he screamed from the bedroom, where the litter had been born.

A Croydon Animal Hospital veterinarian, Anil Rastogi, examined the kitten in Pyatt's home and declared him healthy.

He said Image's chances of survival were pretty good.

Rastogi said any potential complications were minimized because the cat had only one esophagus to carry food and air from his two mouths and two noses.

"Everything is one except just the upper part of the face," Rastogi said.

An official of the Mutter Museum, which offers a gallery of medical malformations at the College of Physicians of Philadelphia, was intrigued.

"In all the years and all the cats we've had, we've never had a cat with such a deformity," said Gretchen Worden, curator and director of the museum.

Faculty members of the University of Pennsylvania School of Veterinary Medicine were on retreat yesterday and were not available to assess the rarity of the kitten.

Pyatt said Butt-Butt (named for her tendency to follow people) produced another oddly formed kitten last year - one eye gold, the other eye blue, limp hind legs, and a hooked front paw he uses to put other cats in a headlock.

Butt-Butt has had a difficult time trying to nurse Image, Pyatt said. Image's faces show frustration as both mouths open but only one mouth at a time can latch onto a nipple to suckle.

"They're not close enough to get one nipple at the same time," she said.

Pyatt tends to feed him feline nursing supplement by bottle now. One side gets fed half a bottle, then the other side is offered the remainder.

And though the kitten can drink from two bottles at once, Pyatt said she could not juggle the kitten and two bottles together.

Most veterinarians contacted chuckled when told of a kitten with two faces.

"I've seen some abnormalities, but I've never seen anything quite as amazing and spectacular as this thing," said Dr. Justin Soli, who runs the Rittenhouse Veterinary Medical Center in Center City.

Soli, after hearing a description of the kitten, theorizes that what began in utero as developing twins stopped midway.

Explaining why that process stopped would require more research on the cat, he said. Possible causes include a number of environmental or genetic influences.

Dipak Sarkar, chairman of the Animal Sciences Department at Rutgers University in New Brunswick, said he had seen a few double-faced animals in his career.

Sarkar said that somehow after conception, some of the kitten's precursor cells - cells eventually responsible for giving rise to features of the body - were damaged.

"Certain genes get defective," he explained.

Which is why the Mutter Museum is interested in having a look at Image.

The museum is a veritable clearinghouse of medical malformations, including one-eyed pigs, skeletons of little people, and wax images of problems arising from rare eye diseases.

The museum's Worden said there was a name for organisms with two faces on one body: diprosopus.

There is a human embryo on display at Mutter with just that quality. But Worden has yet to find an animal to add to the permanent collection.

Is she interested in Image?

"You better believe it," she said.

Pyatt has had other calls from folks interested in having a look. She even had a conference call yesterday from 50 people in one Bucks County office who wanted to know if she would give up the kitten or have it put down.

Pyatt plans to do neither.

Instead, she is waiting eagerly for the day soon when Image's four eyes - still shut - open for the first time.

It might be fun to see, she said, how he roams around the living room, with what promises to be panoramic peripheral vision.

The birth of the kitten, however, has made Pyatt question whether she should continue to let the mother cat run loose at night.

"This is a little too bizarre to be letting her go out anymore," she said.